What's Your Opinion?
We are interested to know what you think of this project. Fill in the form below to let us know.
Sybiz :.

Company Overview
Founded in 1975, Sybiz Software is a developer, marketer and supplier of accounting software for medium-sized businesses both in Australia and internationally. With over 20 years of industry experience and continual innovation, Sybiz Software produces products designed for globally oriented businesses in the 21st century.
The Sybiz Website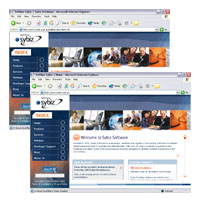 Sybiz required a highly flexible and informative product and service website that would increase customer activity, boost sales and expand product awareness.

Absol was enlisted to re-develop the Sybiz site and provide the Australian based company with a collective resource that would enable Sybiz staff to post sales and marketing information relating to key areas of their business.

Sybiz has a large collection of Value Added Resellers who operate on their behalf, reselling Sybiz accounting software. Powered by AbsolPublisher, providing a secure login access area for Sybiz Associates was a simple task and implementing this feature resulted in more efficient distribution of the latest product updates and information.

Another requirement of the Sybiz solution was the ability to send out email newsletters and messages to registered users of the website. AbsolPublisher made this facility availlable via the Messaging Module, a standard feature of the system. Recipient details are imported into AbsolPublisher from the Sybiz CRM system and AbsolPublisher targets pre-defined emails to these recipients.

With the help of Absol, Sybiz managed to deliver an expansive corporate presence and client area to their customers, and this went a long way in building on Sybiz's existing client relationships and delivering relevant information to potential customers.